Using Virtual Reality to allow mine rescue volunteers the ability to practice emergency simulations that are difficult and dangerous to recreate in a physical mine.
We have been early adopters of Virtual Reality (VR) since day one of the Oculus Kickstarter campaign when Palmer Lucky was heading up the company. Through all the company changes and Facebook's acquisition, one thing has remained constant; the drive to build a device that is capable of delivering a one of a kind engaging experience that can take you from one perceived reality to the next.
Flashback to 2015 when we partnered with Dynamic Earth and Ontario Mine Rescue to create a new novel interactive installation pertaining to Mine Rescue. Originally developed as a controller-based experience for generating awareness of Mine Rescue, it quickly transitioned into a training simulation for engineering students entering into that field. Through much interest, we soon saw that this could be greatly beneficial to those in Mine Rescue. Not only was it an educational tool for youth engagement, but also a valid simulator that could aid in training new rescue agents as well as refreshing existing ones.
After the launch of the initial installation, we began focusing our efforts into developing brand-new experiences in Virtual Reality. This was about the time that the Rift CV1, a virtual reality headset had just begun to ship their first quarter of 2016. We were developing a variety of technical demonstration pieces showing what benefits VR could bring to training and education. There was a great amount of potential shown, but the one thing that could not be overlooked was the means by which you interacted with the virtual world around you. Everything was still bound to either a controller or keyboard. Oculus delivered an amazing solution to this problem at the end of that year by releasing its latest product; the Touch controllers.
These were the controllers that finally gave VR its wings. 6 Degrees of Freedom (DOF) and hand tracking had now opened a new realm of possibilities. We spent a great deal of effort experimenting with this new hardware, proving to ourselves that this could be the future of virtual based training. Soon after, we began prototyping operational simulations, one of those being for Mine Rescue. With these new technical achievements, we were able to deliver enriched experiences, giving rise to more meaningful engagements that could be seen to enhance skills training.
Heading into 2019, we were again anticipating Oculus announcing new advancements to the hardware line, one of those being the Oculus Quest. Its predecessor the Oculus GO, was a step towards wireless freedom, but restricted you to only 3 DOF, as opposed to 6. The Quest, however, could now do inside out tracking with it's head mounted cameras removing the need for environmental sensors. Although the mobility was great, this meant the restriction of certain features that were bound to PCs with GPUs harnessing the likes of a GTX1080 (NVIDIA graphic processing card), something that mobile hardware just cannot do, but understandable considering the constraints. The Quest definitely has its place for us, but we were surprised what happened next.
A few months before the launch of Quest, we were introduced to Facebook and Oculus through an ad agency Death of Bad. They found what we were doing in VR and wanted to follow us for a week alongside the Ontario Mine Rescue team to learn more about how we were collaborating. This was set to be a showcase piece on how VR can influence training and education for safety, especially in the case of training Mine Rescue volunteers. Oculus VR for Good campaign aimed to shed light on some of the non-traditional use cases of VR. So, we showed them our current progress on the Mine Rescue VR experience. They had the chance to see what it was like to travel underground and learn what it takes to be a Mine Rescue Agent. The experience was an absolute pleasure and we were enthralled to be able to open a window into mining and mine safety. You can watch the full Oculus VR for Good / VR for Safety video below.
The Future of Mine Rescue VR
One of the things we are constantly seeking is the expansion of real world props to bridge the gap from reality to its virtual counterpart. With the generous donation from Ontario Mine Rescue, we recently began working on a brand new BG4 – PC Pack - an all in one VR Backpack. We want to maintain the fidelity from the Rift S but also have the added efficiency of being completely untethered, giving users the ability to move freely in any given environment.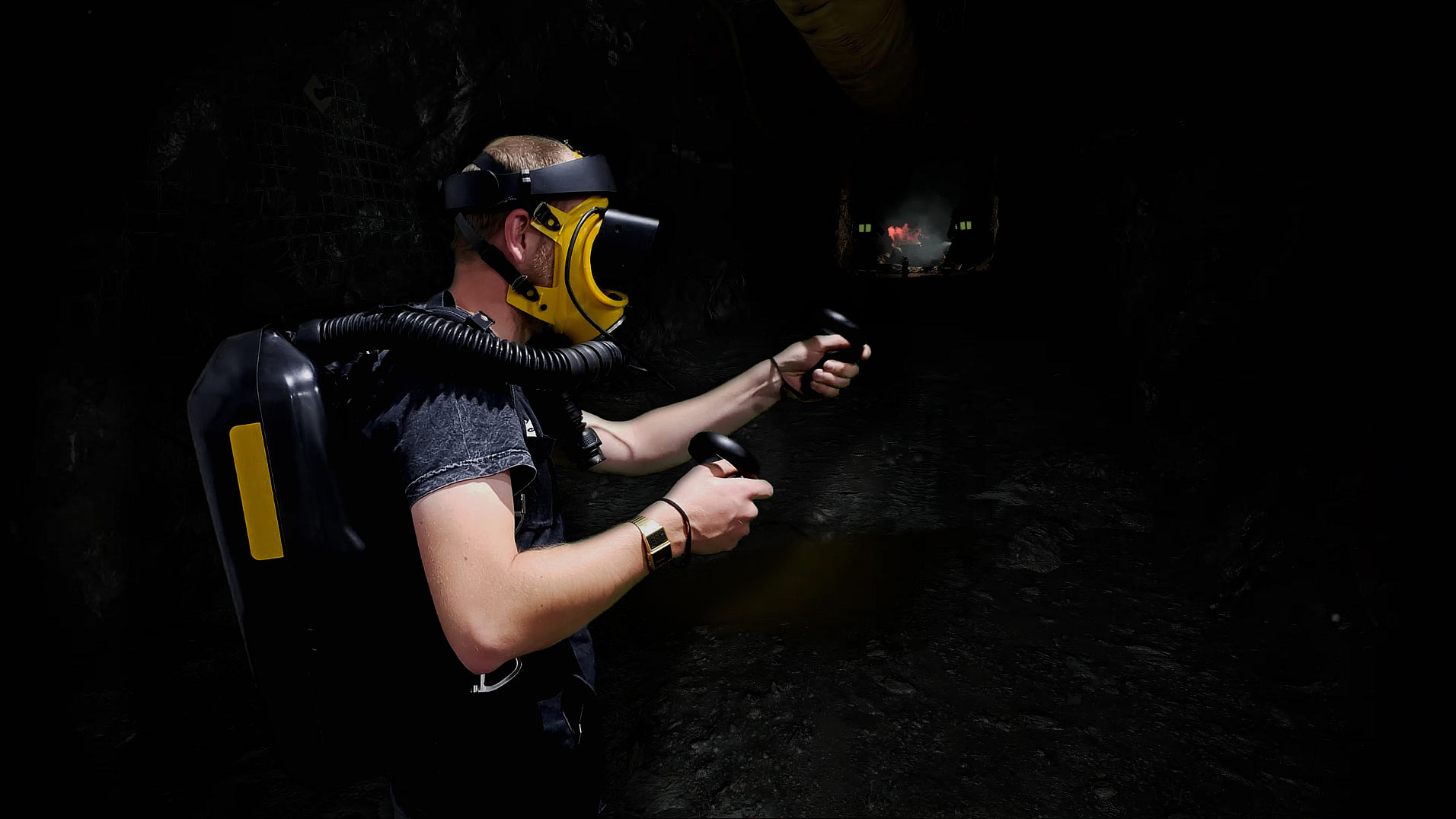 True to Life Mine Rescue Experience [ Prototype ]
We are constantly transforming our concepts into real working prototypes and experiences. These initial tests are proving to be quite successful (see photos below) and we are continually improving on this research and development by transforming it into standalone products that Mine Rescuers can use world-wide, improving the quality and efficiency of training and skills development.